PP strapping, the scientific name is polypropylene, is a lighter type of common plastics. The main material of PP strapping is polypropylene wire drawing grade resin, because of its good plasticity, strong breaking tension, bending resistance, light specific gravity, and convenient use. , has been processed into strapping, which has been widely used in various fields
Introduction
PP means polypropylene, there are many grades of polypropylene, and the production of strapping (best effect) uses polypropylene raw material of grade T30S.
Appearance of PP strapping: translucent to opaque, transparent film texture. Combustibility: Combustible in flames. Extinguish slowly after leaving the flame or continue to burn. When burning, the upper end of the flame is yellow, and the lower end is blue; there are melting and dripping phenomena. Can smell paraffin.
Features
1. Polypropylene (PP) is the main raw material, material: polypropylene wire drawing grade resin, because of its good plasticity, strong breaking force, resistance to bending fatigue, low density, good tensile impact performance, easy to use, etc., it has been used in various extensive role in the field.
2. Various strapping machines suitable for all walks of life (semi-automatic, fully automatic, manual strapping machines)
3. Strong adhesion, high tensile force, light weight, corrosion resistance, beautiful appearance, high-grade
5. The color is bright, there are many colors such as yellow and white ink, you can choose
6. According to customer requirements and samples, special strapping straps such as printed characters and printed icons can be produced
Classification of pp strapping
1. The polypropylene raw material for strapping is transparent granular, so PP strapping can be classified as
Transparent PP strapping
Translucent PP strapping
Color PP strapping
2. According to the proportion of polypropylene used in the production of strapping, PP strapping can be divided into
New pure material PP strapping
Pure material (recycled material) PP strapping from China factory
Ordinary sandwich PP strapping
3. According to the purpose of use, it can be divided into
Automatic PP strapping from manufacturer
Semi-automatic PP strapping
Handmade PP strapping
Flexible PP strapping
It is used for packing cartons and used with automatic packing machines.
color type
White, red, yellow, blue, black and other colors.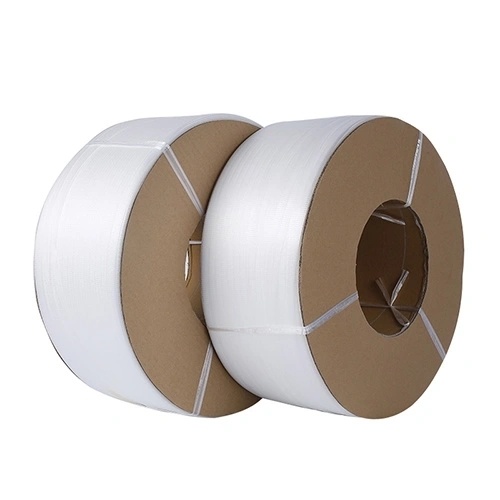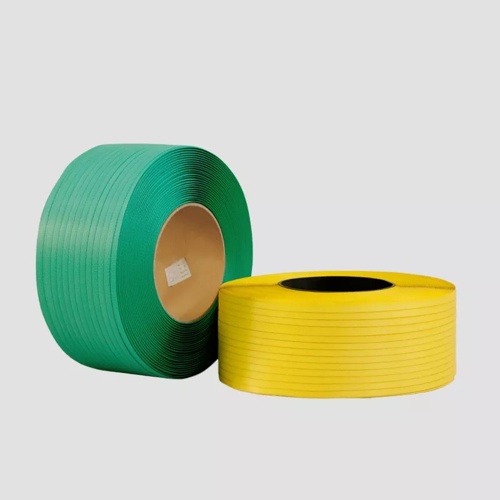 P material
Polypropylene wire drawing grade resin has been widely used in various fields because of its good plasticity, strong breaking tensile force, resistance to bending fatigue, low density, good tensile impact performance, and convenient use.
Production Process
The first is the temperature control of the extruder, generally at 250°C to 280°C. The next step is cooling. The temperature is very high after the belt material exits the machine head, so it must be cooled in water immediately, because the isotactic polypropylene is easy to form a crystal structure under the condition of rapid cooling, and the molecular structure of the crystal is relatively loose. Easy stretch orientation to obtain high quality products. Then stretching, the purpose of stretching is to increase the longitudinal strength of the strapping and reduce the elongation. Stretching must be carried out in boiling water, generally using one stretch. The last is embossing. The stretched strapping passes through two patterned rollers, and then it is embossed with patterns. Its function is to increase friction during use, not to slip, and it looks beautiful from the outside.
Elongation
1. 12mm wide and 0.6mm thick pure material PP strapping, its breaking force > 1000N elongation: < 20%
2. 13.5mm wide and 0.6mm-0.8mm thick pure material PP strapping, its breaking tension: 1000N-1500N elongation: <20%
3. 15.5mm wide and 0.6mm-0.8mm thick pure material PP strapping. The breaking force: 1500N-2000N Elongation: <20%
4. 19mm wide and 0.6mm-0.8mm thick pure material PP strapping. The breaking force: 2000N-3000N Elongation: <20%
Related Products